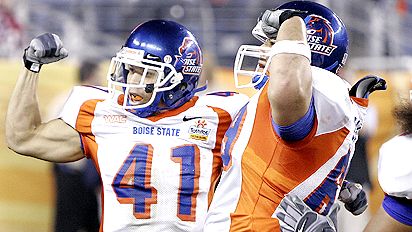 Hawaii Bowl. Boise State vs. East Carolina
The talk of the town is that Boise State will have a letdown in this game and started slowly after the BCS miracle last season. Obviously, these people have never been to Boise or played in the WAC. East Carolina's trips to Virginia Tech and West Virginia received much more national attention than any game Boise State has played in this season (including at Hawaii). The Pirates' Chris Johnson is a stud, averaging an opponent-adjusted 5 yards per carry, but Boise State is definitely the better team in this game.
The Matrix - Boise State by 8.8, 46.3% against the spread
Motor City Bowl. Central Michigan vs. Purdue
What a miserable bowl to be forced to play in - how can you recruit to a school where a conference championship and decent season is capped off with a trip to Detroit in late December? Central Michigan has played three BCS conference teams this years, losing by 45, 23 and 56 points. If there is greater parity in college football, it ain't coming from the MAC. We may expect a different outcome this time from the previous meeting (when Purdue won by 23) after the dismissal of Lymon, but losing an athlete for conduct detrimental is not as bad as losing a leader to injury and, in some cases, can be a real blessing if his conduct was really detrimental. The critical point is that Central Michigan plays poor pass D (114th in the nation according to the Matrix) and Purdue will throw the ball 40 to 50 times.
The Matrix - Purdue by 6, 42% against the spread
Holiday Bowl. Arizona St. vs. Texas
These are two teams that, in my opinion, are meeting at a crossroads as they move in opposite directions. Two years ago from now, Texas had one of the best college football teams the world has ever known. Arizona St was struggling on the bowl eligibility bubble. Texas is losing more recruiting battles to LSU, OU, A&M, OSU, and even Tech (but not Baylor), has placed too many athletes in Austin's prisons recently, and has lost its last 3 games against rivals A&M and OU. Texas is still among the toughest against the run, but ASU has the better overall opponent-adjusted defensive efficiency and won't be all that interested in running the ball anyway.
The Matrix - ASU by 2.5, 61.8% against the spread
Champs Sports Bowl. Michigan St. vs. Boston College
Where the Purdue/Central Michigan game is a no win situation for the Big 10 - no one's impressed when you beat the Chippewa's - the Spartans could knock off BC, the ACC runner-up and former national title contender, and win back some Big 10 pride. Don't believe the hype about Ryan and BC's efficient offense - Michigan St is more efficient on the ground and in the air than the Eagles. Michigan State could pull off the upset in a shootout.
The Matrix - Boston College by 5.3, 55.9% against the spread
Texas Bowl. TCU vs. Houston
Who's going to get excited about this game? Houston doesn't have fans and TCU fans were expecting a BCS bowl berth when the season kicked-off. Houston is headless and TCU has been stumbling around all season. When Houston has the ball, we will be seeing a top 20 offense against a top 20 defense and should be, for college football fans, fun to watch.
The Matrix - TCU by 4.8, 54.3% against the spread
Emerald Bowl. Maryland vs. Oregon State
It's been a tough year for the Terps. After losing half the starting roster and losing to North Carolina, Maryland needed 2 wins in 3 games to go bowling - and beat Boston College and North Carolina State (37-0) to punch their ticket. Oregon St. has had the nation's most efficient run defense and Friedgen needs to run the ball to take pressure off of Turner.
The Matrix - Oregon St by 5.8, 53.2% against the spread